Darrell Curtis
from
Curtis Custom Cutting
5869 Teuscher Road
Verona, NY 13478
Teaches the step by step method of how to CUT UP YOUR OWN DEER.
After reading all the instruction if you don't want to tackle this job your self give me a call and we will do it for you. 315-363-2763
Feel free to call me with any questions.
Start with Field Dressed Deer which must be dressed and cooled properly.
This is a small deer but as you will see later we still got an excellent percentage of yield using this method.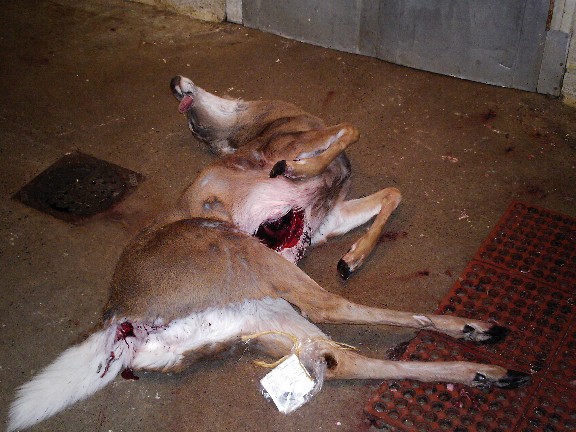 You will need an appropriate work area. It will help if you have hooks, an assortment of knives, a hoist(s), walk in cooler, cutting and wrapping surface along with the necessary supplies. A commercial meat grinder is useful as well.
This equipment will be helpful in speeding up the job but is not required.
You can cut your deer with one sharp 6" knife.